We may earn money or products from the companies mentioned in this post.
How much does a website cost? Is there such a thing as a website cost blueprint?
These are probably some of the first questions for anyone who considers establishing their own web presence.
A lot of people open up their own sites. There are currently above 1.7 billion websites in existence and the number is growing daily.

Since having your own website has become a very common thing, you would think that it would be easy to answer the question of how much does a website cost. It turns out that the exact numbers are very hard to come by.
The price of each website is individual. It depends on a lot of factors. To give you a better understanding of what to expect we will try to help you create a website cost blueprint for yourself.
In this piece we'll:
Determine how much a website would cost and give you rough outlines for common options.
Discuss the costs of the different website components in detail. That way, you can pick and choose options according to your own requirements and budget.
Try to give you a clear idea about what kind of price to expect for the website you have in mind.
Let's get cracking!
What Does the Cost of a Website Consist of?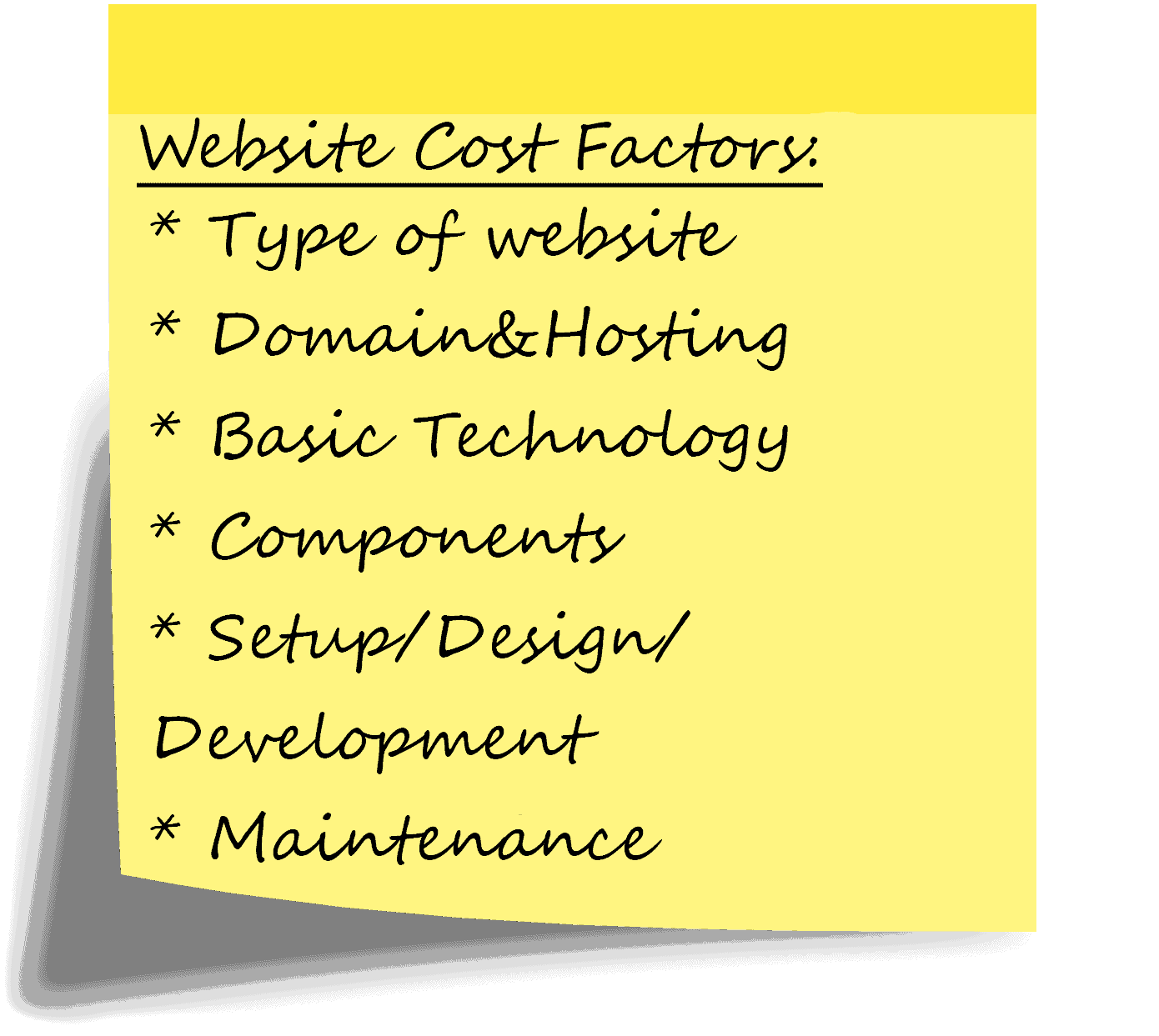 As a first step, let's look at everything that costs money when creating your own website and how that translates into final costs in different scenarios.
Website Cost Factors
While the price of a website is highly individual, some things are universal in every website creation process and determine the cost of a website:
Type of website — Websites are not made equally. The price depends highly on the type of site you are building. A simple blog is easier to set up than an online shop or a small business website.
Domain&Hosting — Every web presence needs a home and an address you can reach. In terms of websites, that's a server and a web domain. You can either get those yourself or acquire them as part of a website service.
Basic technology — All websites are powered by some kind of software in the background. This can be pure HTML or PHP files, a content management system like WordPress or something else. Depending on your choice, costs will differ.
Components — The basic technology is not everything. Depending on what functionality you need, you might need additional plugins, apps, or third-party services, many of which will cost money.
Setup/Design/Development — Building a website is not just about acquiring the parts, they also need to be assembled. You can do that yourself or hire someone else to do it. If you do the latter, you will have to pay for that.
Maintenance — Additionally, it's not just enough to build a website, you also need to keep it running. Ongoing maintenance (including marketing) is also a part of your website cost blueprint.
As you can imagine, for many of the factors above, you can either invest money to have someone do those for you or the time to learn to take care of those yourself. Depending on your capabilities, this will also change the final cost of a website. Here are a few scenarios and the final prices of the website.
Option 1: Do Everything Yourself – About $60/Year
The cheapest way is to create a website all by yourself.
"But I can't code," you may think.
No problem!
There's enough technology out there to allow you to create a website without coding, most prominently open-source content management systems like WordPress and Joomla. If you are willing to put in the time to learn the system of your choice, you can have your own website for the cost of just hosting and domain.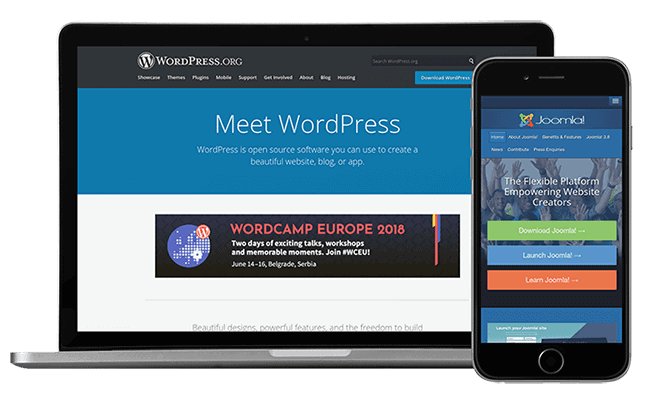 In the case of Bluehost that would be $4.95/month including a domain. Multiplied by 12 makes about $60 or the cost of one Starbucks beverage per month. If you opt for a longer contract, you can even reduce hosting costs to about $36/year. Learn how to set up your account with Bluehost now.
This barebone version comes with very few bells and whistles. It will also be the most time consuming for yourself. It's absolutely possible to create a high-quality site this way, and many have done it before.
Option 2: Hire a Freelancer – $1,000 to $3,000 per Website
Of course, if you have the budget or don't want to put in the time yourself, you can also hire a freelancer to do all the work for you. There are plenty of sites where you can do so, including Upwork, Freelancer.com, and PeoplePerHour.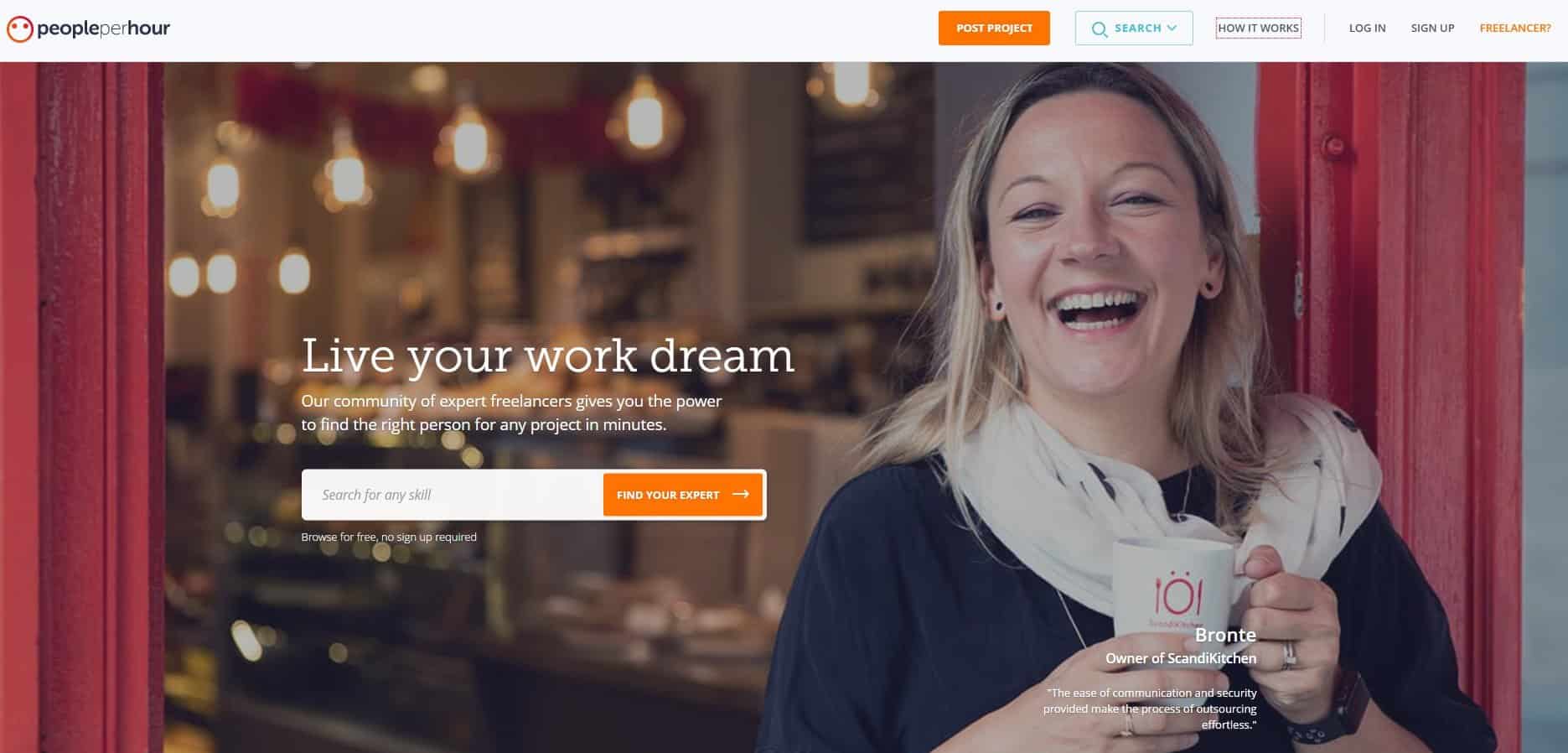 The average hourly pay covers a wide range, from below $10 to $100+. So, the cost of a website is highly dependent on who you work with and how long your project takes to complete. A standard WordPress website takes anywhere from 15 to 30 hours. Therefore, you are looking at costs of $150 to $3,000+.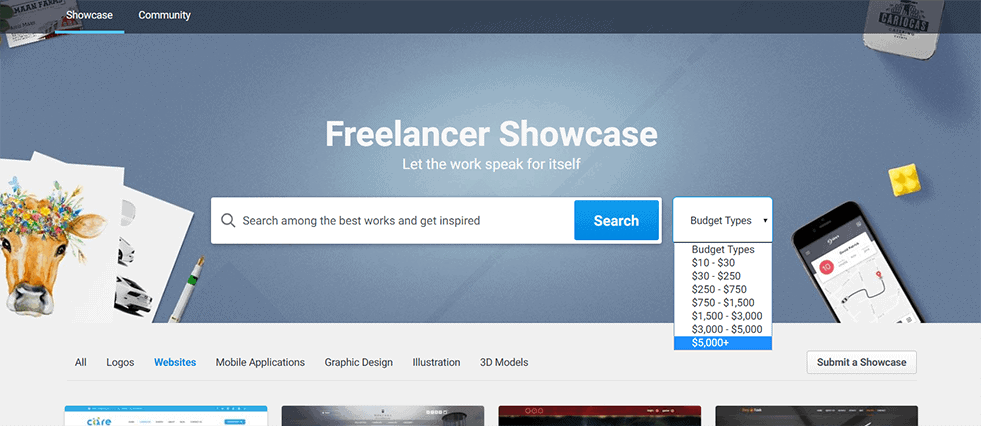 If you work with a website builder, you can also hire somebody to create a custom template for you. Many of the providers have special marketplaces for that. Keep in mind that it will also cost money on top of using the website builder in the first place- more on that below.
So, here's the deal:
If you want quality, when hiring a web developer, at least $1,000 – $3,000 is a good ballpark number to expect for a simple site. The more complex the site is, the higher the costs.
Option 3: Work with an Agency – $10,000 to $50,000 per Website
Working with an agency is a whole other story.
You will interact with multiple stakeholders who are responsible for different areas (design, branding, development, SEO, etc.) making the process much longer and resulting in more work hours.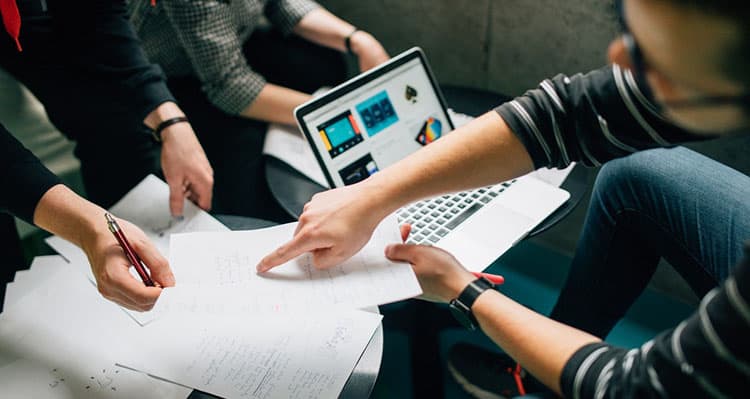 You get quality, no doubt – but the price increases enormously.
How much then?
At agencies, hourly rates can be anywhere between $100 and $500+. Consequently, the website costs of $10,000 to $50,000 are realistic. It's also possible to get a site for below $10,000. It's most likely that it will take a while to find an agency like that.
That is not to bash these businesses. There are a lot of good ones out there who do great work. If you have a company who has the budget to work with an agency, the end result can be fantastic and the investment very well worth it. It's just that it comes with costs and you need to be aware of that.
For that reason, many opt to build websites themselves. Another option is that they make a mix and match approach of doing some parts themselves and outsourcing others.
To help you decide the right process for you, the next section of our website cost blueprint will dissect the different cost factors and show you what to expect.
Domain and Hosting
Domain and hosting are among the basic needs of a website. For that reason, they are also the first aspect we will take a look at. While there are many types of hosting, when it comes to building your own website, you have two main choices: self-hosted and hosted.
Self-hosted Options
Self-hosted simply means that you procure hosting space yourself. This can take the shape of assembling or buying and running your own server at home. Unless you happen to be a sysadmin, you probably won't be running your own server, so we won't cover the costs for that at this point.
Most commonly, people turn to a hosting provider. That means a company that runs web servers and rents space on them out to other people.
There are two main options for that:
Completely self-hosted — In most cases, you simply pay a monthly fee to use space on someone's server. They provide the basic setup and capabilities you need. The rest of running your website is, for the most part, up to you. A good example of this is Bluehost. Costs are on average around $2 – $5/month.
Managed hosting — Especially for WordPress, there is also so-called managed hosting. That means, providers don't only give you web space but also take an active part in managing your site. This means automated security, updates, caching, and so on. Of course, additional service makes this type of hosting more costly. For example, managed WordPress hosting runs about $15 – $50 per month for a single site.
If you want even less work on your hands, the next option can be a good idea.
Hosted Options
Hosted website means that someone else takes care of everything technical involved with running a site. You only need to care about the design, content, and marketing of your website.
Typical examples of this are website builders like Wix, Constant Contact, Squarespace and Weebly (find more on this list). The hosted version of WordPress is another example (read our comparison of WordPress.com and WordPress.org).

The only downside of this kind of arrangement is that you are often locked into the feature list of your chosen plan. If you want additional options, you need to upgrade your account. The same features you get on a self-hosted website are often more expensive on hosted alternatives.
Monthly costs for hosted website solutions run at about $4 – $40.
Domain Costs
A server is not everything you need. Your site also should be reachable. Therefore you need a domain name.
Many hosted solutions out there give you a free subdomain like http://yoursite.maindomain.com. This is okay for development purposes or hobby blogs. For any kind of professional purposes, you'll probably want your own custom domain name, which you can get from a domain registrar. They will cost around $10 per year for a domain ending in .com, .net, .org or other standard domains. Fancier endings like .store, .io or .global are more expensive, in the range of $30/year and more.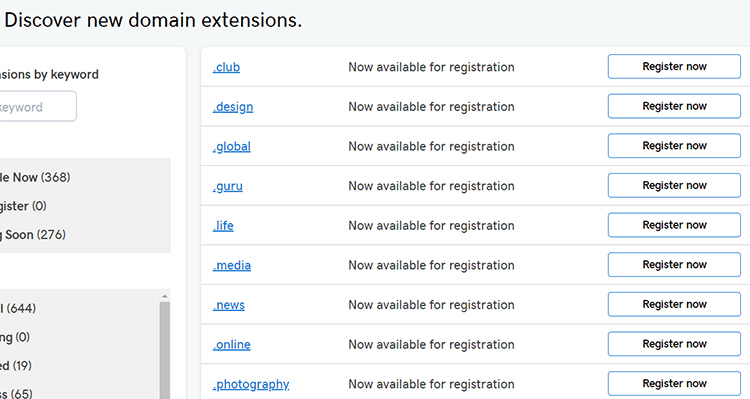 Picking the right domain name is often more important than the ending. Some hosting companies and services offer a free domain when you sign up. If that is the case, you can deduct the domain fees from your website cost blueprint.
Software/Platform (+ Add-ons)
A website doesn't only need a home and address, it also needs a foundation – the technology running it. A few years ago, that was simply HTML or PHP. If you wanted a website, you needed to create the files yourself and put them on the server.
Since you needed programming skills for that, you were more likely to pay someone to do it. Therefore, development used to be a major contributor to website costs. These days, we have other ways of running websites, namely content management systems (CMS) and website builders.
Content Management Systems
On the CMS side, the most common are WordPress, Wix, and Progress Sitefinity with WordPress being the most popular by far (50% market share, running more than 30% of all websites on the Internet).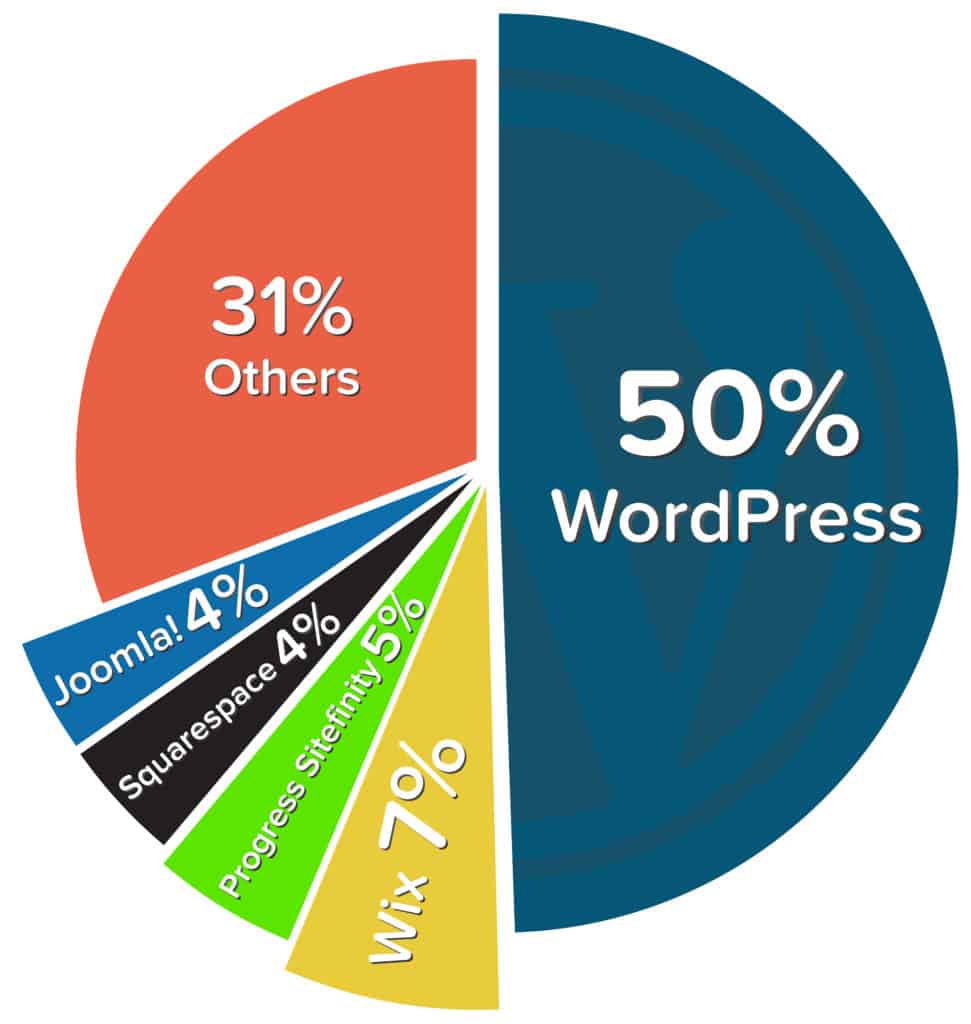 All of them have something in common: They are open-source software packages and therefore completely free to use.
Good news, right?
Keep in mind that there are still some costs associated with them.
For one, depending on what kind of site you need, you will likely require some paid add-ons e.g. professional site templates or plugins for additional functionality. They have a wide range of prices and we will talk about those in the next section.
Additionally, all three require different levels of technical knowledge. Especially for Drupal you really need to have programming chops. Therefore, unless you are a web developer yourself, you are much more likely to need professional help. Obviously, it will add additional costs to your website budget.
More on that below.
Website Builders
Another popular option to build your own website is to use a website builder. These are hosted solutions that let people without technical knowledge design websites without coding. Using a drag-and-drop interface, you can create a website you want. We have already mentioned the most popular examples above.
Website builders usually charge on a monthly basis and offer different plans with more or fewer features. On average, they cost $4 – $40 a month.

As mentioned, they also come with hosting, so you can subtract that from your total. Keep in mind that you will likely need to purchase your own custom domain.
While almost all website builders offer free plans or at least free trials, to get the same amount of features as with a self-hosted CMS, you usually need to pay more per month.
At the same time, website builders come with all the convenience of a commercial product. That means you have someone to turn to in case of problems and everything comes from one place. Therefore, you are less likely to run into technical problems.
Custom Solution
Of course, it's also possible to hire someone to put together a custom solution instead of going for something ready-made. Your development costs will be higher because it takes longer and involves more work. In that case, you would most likely work with an agency and pay the prices mentioned in the beginning.
Costs for Design and Development
After settling on which system to run your site and where to host it, it's time to put it all together. For the design and development, the cost is mostly dependent on how much work you can do yourself vs. how much you pay other people to do it. Depending on the platform you have chosen, these will differ greatly.
Content Management Systems
If you are going the CMS route, implementing your website design can simply mean finding the right template. There are lots of best flexible WordPress themes, especially in the WordPress directory. The same is true for the other two content management systems Joomla! and Drupal.

If you need something a little more sophisticated, you will have to go premium.
Prices are as follows:
Note that WordPress has by far the biggest ecosystem. For that reason, you are more likely to find a free template that fits your needs. It's also easier to find professional help in case you need some adjustments. At the same time, you are less likely to need it because WordPress is the least technical of the three CMS.
The same goes for functionality. Among WordPress' 50,000+ plugins, you will likely find what you need. This will keep you from having to hire someone to produce a custom solution for you. There are also paid plugins out there that provide a wide range of functionality.
Approximate prices for extensions for the different CMS for one site:
WordPress: $29 – $59
Joomla: $29 – $59
Drupal: $16 – $29
Note that especially with Drupal you most definitely need a developer to implement any changes. Even setting up a new template or installing it is a lot more complicated with that platform. Therefore, average users are usually unable to implement it or need to spend a lot of time figuring things out.
Website Builders
The good news is that website builders are made to enable you to do the work yourself. For that reason, you will less likely have to pay someone to take over the work. Additionally, they usually come with a range of readymade templates you can use right away, sometimes hundreds of them.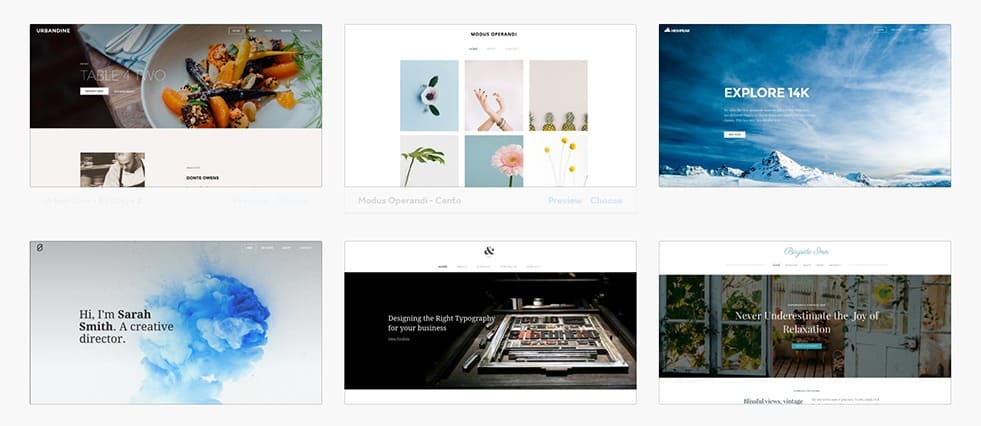 While you can customize templates to fit your needs to a degree, it also often means that you are stuck with the choices at hand. In some cases, it's possible to purchase additional templates. This is often a lot more expensive option than using the default templates for a CMS.

Squarespace: $199 – $299
Weebly: $22 – $49
You can also hire somebody to whip up something custom for you. That's not cheap either.
When it comes to functionality, website builders also offer plugins and apps to enhance your site. Many of them are free, but there are also premium solutions for features like building an online shop. These come on top of your basic costs. Here are some example prices for different website builders:
Wix: $3 – $20/month
Weebly: $2 – $79/month
Finally, if you have something that you can't solve on your own, it's also possible to hire an expert. The prices we found were between $4 and $250 per hour.
Miscellaneous Costs
A website is more than just the electronic skeleton. In order for a site to be successful, you need a few other things. Most important are the content and marketing. Depending on your abilities (or willingness to acquire them) that comes with additional costs:
Copywriting — Not a born writer? Well, nobody is! To make your site more attractive and informative, it does help to be able to string coherent sentences together repeatedly. If you feel absolutely incapable of doing this or don't have someone on your team, you can outsource it. Depending on the level of experience, a copywriter charges $50 – $200 per hour.
Visuals — Content is more than just writing. High-quality visuals help underline your point and make your site more pleasant to look at. Thankfully, there are lots of free stock photos out there. Otherwise, you need to pay $1 – $100 per image.
SSL/HTTPS — It's important to keep your site safe. Encryption is one of those basic measures to do that. You need it especially if you are planning to run an e-commerce site. SSL requires a certificate and there are several free options. Paid certificates start at $15 per year but can go all the way up to several thousand. For WordPress, we have a detailed guide for moving your site from HTTP to HTTPS.
SEO — Search engine optimization is important. Google and Co. are one of the most important traffic sources for any website. Your basic setup should take care of the technical aspects. You might need help with on-page optimization. WordPress has great plugins for that. For everything else, you might need to hire someone. Expect hourly rates of $100 – $200+.
Maintenance Cost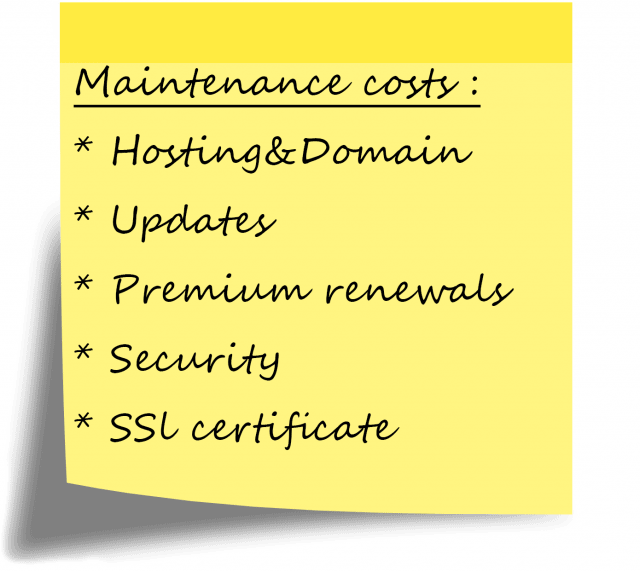 Once your website is ready and online, you will have to deal with the maintenance.
As mentioned in the introduction, websites require certain upkeep. While that's usually nowhere near first-setup costs, it's still something to consider.
Regular Upkeep Costs
Hosting&Domain — These apply for every option. The exact amount depends on what you choose. With a hosted option it is the fee of whatever plan you are on, with a self-hosted site it depends on your provider. Don't forget the yearly renewal fees for any custom domains!
Updates — Software is always evolving with new features, code improvements, etc. On hosted solutions, this part is taken care of for you. Self-hosted websites, on the other hand, will require you to implement new versions yourself. If your chosen system makes this very complicated (I'm looking at you Drupal!), you might have to hire somebody for it.
Premium renewals — Many themes and plugins now use the license model. That means they offer updates and support only for a limited amount of time. After that, you need to renew your license, so these can be part of your maintenance costs.
Security — Once the website is online, you need to keep it safe. That means backups and other security measures. On hosted systems, this is usually part of the plan. At least in WordPress, most of this is available in the form of free plugins. If you are using premium solutions, you should budget for it.
SSL certificate — If you are using a commercial SSL certificate, that comes with renewal fees so keep that in mind as well.
Marketing
The above is built into every website cost blueprint and there are not many surprises there. Marketing is an often underestimated factor.
When your website is online, unless you only use it as a brochure – that's when the real work begins! You need to get the word out and prospects in, so that your site can start earning money. This brings additional tasks and/or additional costs:
Content marketing — We talked about copywriting in the building and designing part. If you want to market your site, building a blog is one of the best ways to do it. WordPress is an excellent option for that. You can create articles yourself or hire a blogger. If you choose the latter, expect costs of $100 – $300 per 1000-word article.
SEO — Search engine optimization is not only necessary for the initial website. If your site is changing a lot (for example, because of weekly blog posts), it's also an ongoing process. There are many free tools for keyword research but if you opt for a paid one, it will set you back about $30 – $99 for standard plans. Alternatively, hire someone for SEO for the rates mentioned above.

Website traffic figures in Google Analytics

Social media — Social media is an important tool to build traffic. It will take time, especially if you do it manually. Useful tools like Hootsuite and Buffer can cut down on your time significantly and cost $15 – $20 for a single-user account. Or you can hire somebody in which case you can expect to pay $15 – $100+ depending on the freelancer's experience.
How Much Does a Website Cost?
The right answer to the question of how much does a website cost is… that it depends on many factors! It's up to your preferences, needs and budget to decide how much work you are willing to invest yourself and what to outsource to another person.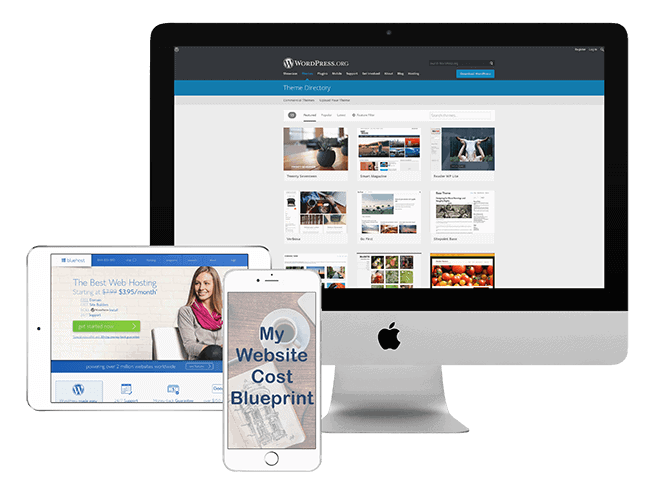 After going through the above, you should now be closer to your own personal blueprint.
Personally, unless you run a company that needs a costly custom solution, I would always advise to go with a self-hosted or managed hosted WordPress website.
Yes, the learning curve is a bit steeper than with a website builder or a hosted website. It doesn't mean much – the WordPress platform is very beginner-friendly. Literally millions of people who have had no web design or development knowledge whatsoever prior to their first site use it every day.
If they can do it, so can you!
Additionally, WordPress has by far the largest ecosystem of all the options. Consequently, there are solutions to almost anything you can think of out there, many for free. WordPress is also incredibly flexible and there's pretty much nothing you can't do with it.
Most importantly, anything you build with WordPress is completely yours. You have full control over what is going on with your site and own all the content. You can do anything you want with your site, including moving it to another hosting company. If you are basically renting a site on some other person's server, you most likely will not be able to keep your site if you should decide to move.
Anything to add to the website cost blueprint above? Comments or questions? Please let us know in the comments section below!
The post How Much Does a Website Cost appeared first on WebsiteSetup.org.